Data shows a divergence is forming between Bitcoin and Ethereum's open interest, something that has been bullish for BTC in the past.
Bitcoin Open Interest Has Declined, While Ethereum Has Seen Rise
According to data from the on-chain analytics firm Santiment, the BTC open interest has been going down since Monday. The "open interest" here refers to the total amount of Bitcoin contracts (in USD) that are currently open on the futures and options market.
When the value of this metric increases, it means that there are more positions being opened up on derivative exchanges right now. Such a trend can lead to increased volatility for the asset, as more positions generally come with higher overall leverage for the sector.
On the other hand, decreasing values suggest the traders are either closing off their positions or are getting liquidated. The cryptocurrency may become calmer following this kind of trend.
Now, here is a chart that shows the trend in the open interest for Bitcoin and Ethereum over the past month: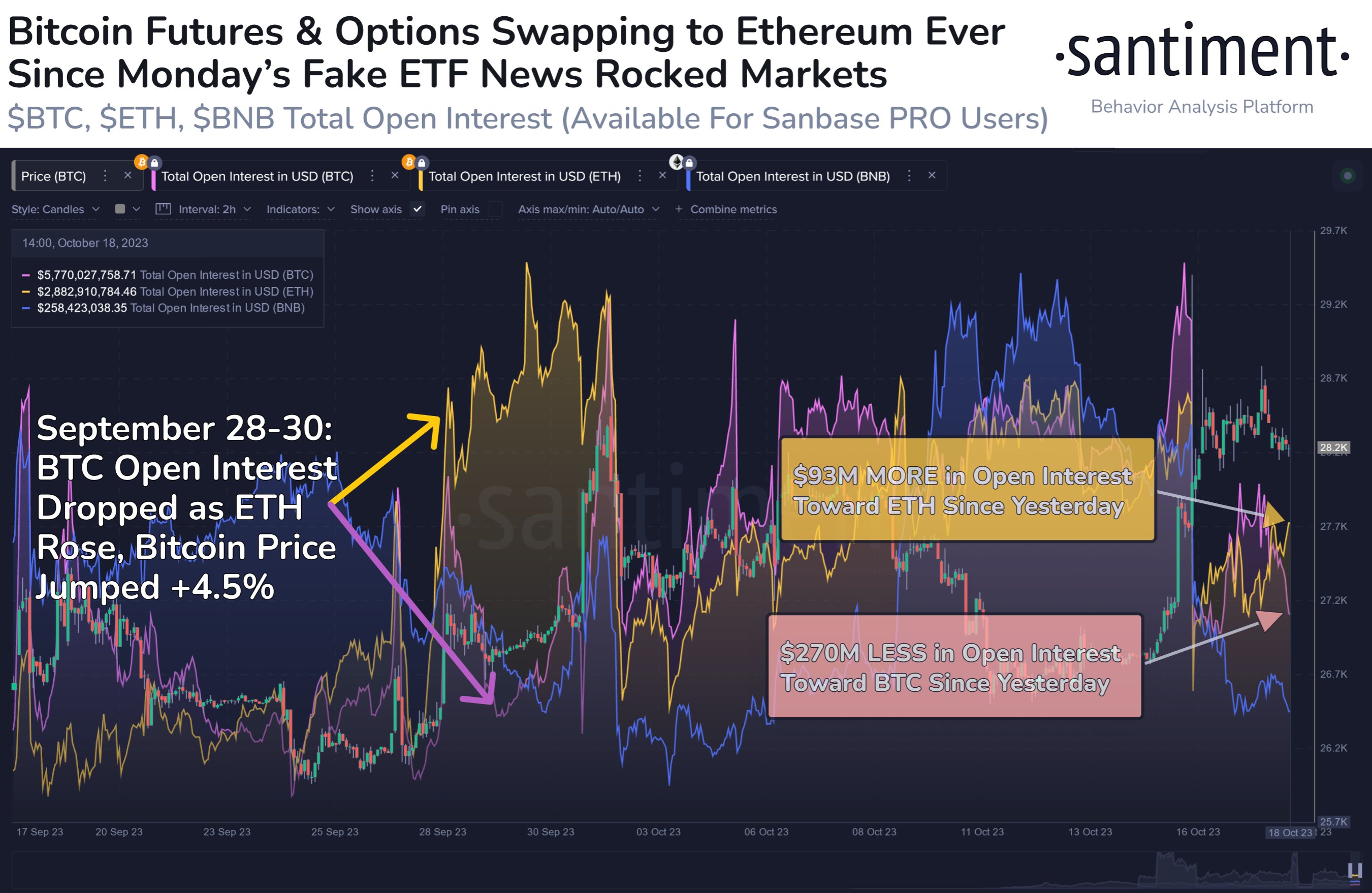 As displayed in the above graph, The Bitcoin open interest has observed a downtrend in the last few days. This decline in the indicator had first started when the fake iShares ETF announcement led to more than $100 million shorts being flushed in a flash.
The metric saw a bit of a rebound not too long after this sudden sharp liquidation squeeze took place, but it was quick to return back toward a downward trajectory.
At the same time that this latest decline in the Bitcoin open interest has occurred, the Ethereum open interest has registered a rise instead. This suggests that while contracts are closing up on BTC futures and options, the ETH side of the market is seeing renewed interest.
Interestingly, as Santiment has highlighted in the chart, the last time this trend occurred, the Bitcoin price benefited from an uplift. This previous occurrence of the pattern was between September 28 and 30, and shortly after this, the BTC price saw an increase of about 4.5%.
The divergence between the metrics of the two assets was much more pronounced back then as compared to now; however, the scales of both the decline in the BTC open interest and the rise in the ETH open interest were far greater.
Nonetheless, the same general pattern has still repeated this time, so it now remains to be seen whether Bitcoin would see a bullish effect this time as well, and if so, to what degree, given the lesser scale of the divergence.
BTC Price
Bitcoin has gone stale during the last few days as its price is still trading around the $28,400 mark right now.
Read More