In a recent report released by Matrixport, a digital assets financial services platform, the spotlight shifts beyond Bitcoin (BTC) as the eagerly anticipated approval of a Bitcoin spot Exchange-Traded Fund (ETF) by the US Securities and Exchange Commission (SEC) could have far-reaching effects. 
According to the analysis, not only could the Bitcoin market experience a significant boost, but Tether (USDT) and the broader crypto market could also see positive outcomes.
Potential Impact On Bitcoin
Matrixport's foresight, outlined in their 2023 outlook report published on December 9, 2022, projected a substantial crypto rally driven by factors such as lower US inflation and favorable macroeconomic conditions.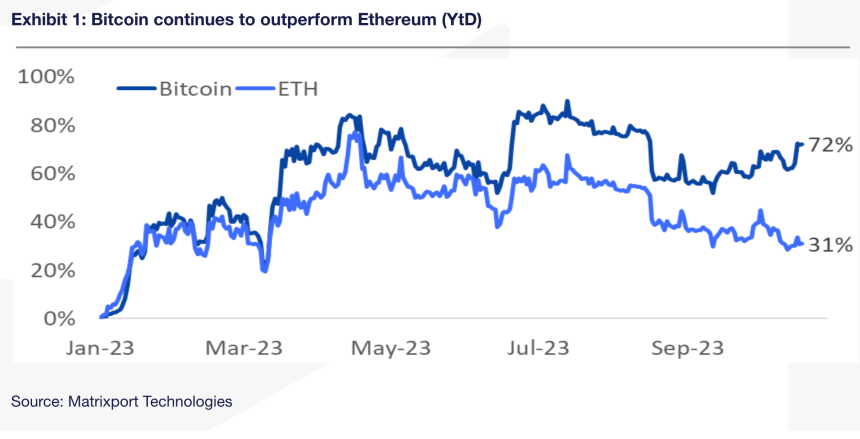 This projection anticipated strong rebounds for Bitcoin and Ethereum (ETH), along with a notable decrease in volatility.
Surrounding the approval of these pending applications, a standout performer in the market has been Grayscale Investments' Bitcoin Trust (GBTC), with its share prices surging by an impressive 167% year-to-date, outpacing Bitcoin's 71% growth. 
While GBTC's net-asset-value (NAV) discount marginally narrowed from -45% to -43% at the beginning of the year, the game-changing moment arrived when BlackRock announced its ETF application on June 15, 2023.
Matrixport's earlier reports analyzed the US registered investor advisor (RIA) community, comprising approximately 15,000 advisors overseeing around $5 trillion. 
Recognizing the potential of this group, the report suggests that even a modest 1% allocation recommendation for Bitcoin would result in approximately $50 billion in inflows. 
$56,000 BTC Price Projection
Drawing a parallel with precious metals ETFs boasting an estimated $120 billion in market capitalization, and assuming that between 10-20% of precious metal ETF investors explore a Bitcoin ETF as a diversification tactic against monetary debasement and inflation hedges, the potential influx into the Bitcoin ETF could reach a significant $12-24 billion.
The report speculates on the implications for Tether's market capitalization by looking at the potential impact of BlackRock's Bitcoin ETF approval. 
Acting as a proxy for potential ETF inflows, a $24 billion increase in Tether's market cap could conservatively push Bitcoin's price to $42,000. With an even larger influx of $50 billion resulting from a 1% allocation by RIAs, Bitcoin could rally to $56,000.
Overall, Matrixport's analysis sheds light on the potential ripple effects of Bitcoin ETF approval, extending beyond Bitcoin's immediate market and encompassing Tether and the wider cryptocurrency landscape.
As market participants eagerly await regulatory decisions, the industry remains poised for potential growth and transformation.
As of the time of writing, the leading cryptocurrency in the market, Bitcoin (BTC), is trading at $28,700, reflecting a 1.8% increase over the past 24 hours.
It is worth noting that BTC has successfully maintained the gains it has made since mid-September. During this period, the cryptocurrency broke its short-term downtrend structure after reaching its peak for the year at $31,800 on July 13.
Read More