The number of blockchain addresses holding at least $1,000 worth of Bitcoin (BTC), equivalent to 0.028 BTC at the current price of $35,115, has reached an all-time high of 8 million, as reported by data from Blockware Solutions and Glassnode.
According to Blockware, this figure could continue to surge as Bitcoin advances in monetization, a favorable long-term trend for the cryptocurrency. Monetization, in principle, involves generating income potential from an asset that doesn't traditionally produce revenue.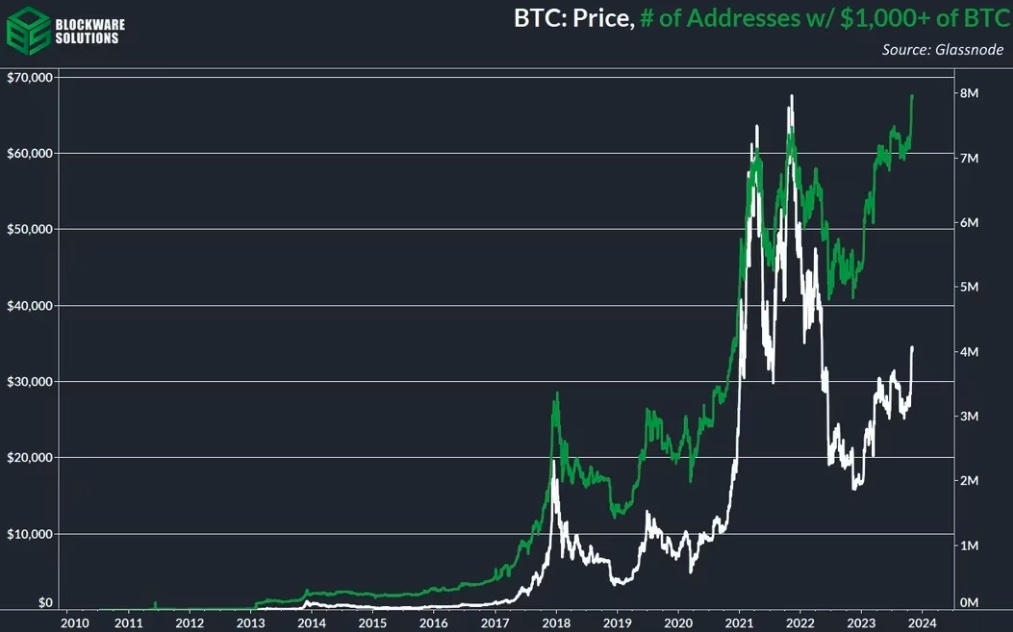 Blockware Solutions stated in an email:
 "If there are tens or hundreds of millions of addresses containing thousands of dollars' worth of BTC, that represents a substantial purchasing power."
This record milestone coincides with bitcoin's recent 25% gain over four weeks, driven by speculation about potential approvals of spot bitcoin exchange-traded funds by the US Securities and Exchange Commission (SEC). The positive outlook has also spurred increased whale activity on the Bitcoin blockchain.
Interestingly, data shows that a massive surge in new Bitcoin addresses happened over the last weekend. Popular crypto analyst Ali Martinez mentioned that over 700,000 fresh BTC addresses were generated in a single day, marking a significant achievement. This robust growth in the BTC network is one of the most reliable indicators for predicting price trends.
#Bitcoin | More than 700,000 new #BTC addresses created yesterday alone. This is an important milestone, as #BTC network growth is the best price predictors!
— Ali (@ali_charts) November 5, 2023
Bitcoin Price Prediction
Over the last week, Bitcoin price has shown some consolidation around $35,000 levels over the last week while altcoins have been showing strength in this time. In a recent YouTube video update, Credible Crypto emphasized that the logical next target is surpassing $35,000.
Credible Crypto's Elliott Wave analysis identifies three key levels to watch: $34,314, $34,714, and $35,119, representing the lower range, midrange point, and upper range, respectively.
With Bitcoin displaying positive short-term momentum, Credible Crypto suggests the possibility of further price advancements until it reaches the psychologically significant threshold of $40,000. Should this milestone be reached, it may open the door to a new all-time high (ATH), as indicated by the analyst.
MAJOR UPDATE ON $BTC!
Quick 6 minute video on an interesting/significant development.
We may be on the verge of something massive.
Clear areas of interest/invalidation discussed.
Likes/shares appreciated. Enjoy!
— CrediBULL Crypto (@CredibleCrypto) November 4, 2023
The cryptocurrency community is buzzing with excitement over the prospect of Bitcoin spot ETF products. There's a growing sense of anticipation that the US SEC will grant approval for these products, drawing the interest of institutional investors. The involvement of major players like BlackRock has raised hopes for approval.
Although the exact timing for approval is still uncertain, many industry experts foresee it happening in the coming year. However, Galaxy Digital CEO Mike Novogratz remains optimistic and believes approval might be granted by the end of this year.
Also, as bullish sentiment and expectations for ETF approval grow, the cryptocurrency community eagerly anticipates the future of Bitcoin.
Read More